Regular pressure washing a house removes built-up dirt, mud, mold, and other damaging debris, improving a home's curb appeal and creating a clean environment around your property. Roof washing and window cleaning also remove layers of built-up dirt and damaging grime that you can't rinse away with a standard garden hose!
Spring cleaning with a pressure washer removes developing mold and algae from a house exterior, while fall window cleaning and roof washing removes layers of storm debris, dried dust, soot, and other damaging residues from these surfaces.
Most homeowners know to wash their home's exterior walls every year or as often as needed, but might overlook other needed areas of pressure washing around their property. It's also good to note when certain surfaces and materials need power washing throughout the year, so you know the best time of year for roof washing, window cleaning, concrete power washing, and all other needed cleaning around your property.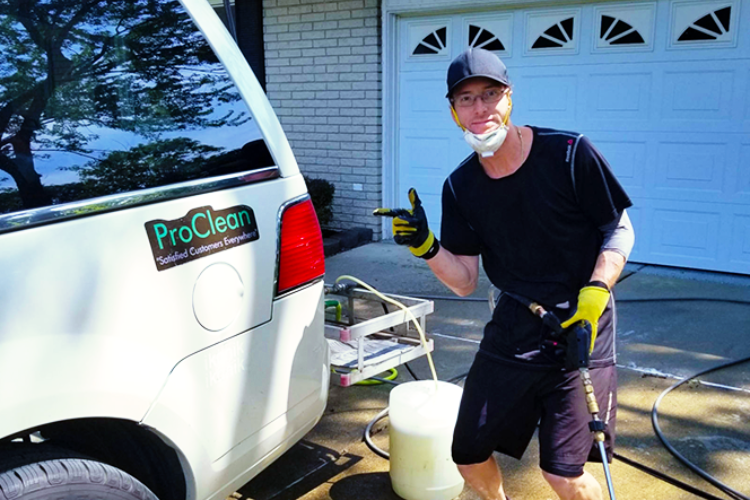 Exterior House Washing in Spring and Fall!
If you're a homeowner, you might consider exterior house washing in both the spring and fall, or alternate the seasons every year. There are many reasons to consider residential power washing during these times; note some of those reasons here, so you know which is the right time to schedule pressure washing for your home:
As snow and ice melt, moisture running along a home's exterior walls might lead to eventual mold growth. Pressure washing a home's exterior walls during springtime removes mold spores and prevents future mold growth, protecting your home from damage and providing a clean, safe environment for you to enjoy during summer months
If you use a snow blower during winter months and blow snow onto your house, snow salt and other chemicals and debris in the snow cling to a home's exterior walls, resulting in corrosive damage. Springtime house washing removes all that debris and protects your home's siding and brick.
For families who love to spend time outside, and especially if you entertain friends on your deck or patio, a springtime house washing ensures your home looks its best through the upcoming summer season.
During summertime, residual lawn care chemicals and fertilizers also land on your home's exterior, damaging the brick and siding. Power washing a home in the fall removes that damaging debris. If you have a large lawn, use lots of treatments for the lawn, and know that grass clippings tend to land on your home during mowing, consider a fall power washing.
In tropical areas especially, summertime storms often deposit layers of dirt, mud, sand, silt, and other grit and grime onto a home's exterior. A power washing in the fall ensures those materials don't continue to cling to a home's exterior walls throughout the winter months!
A fall pressure washing removes insect nests, cobwebs, termite tunnels, and other such debris from insects and pests that might collect around your home during summertime.
Roof Pressure Washing in the Fall
A home's roof is often covered in layers of soot, dirt, dried dust, acid rain residues, air pollution debris, bird droppings, and other damaging materials that tend to build up during spring and summer. A roof wash in the fall removes all that drying debris before it gets buried under a layer of snow!
Roof washing in the fall also allows you to check the roof for needed patching and other repairs. Missing shingles, holes in the roof, and other such damage let out your heat during winter months, increasing your utility costs and creating a drafty home interior. Opt for a roof wash every fall to keep the roof clean and allow you to make needed repairs before winter's arrival.
Gutter Cleaning in the Fall
During summer months, a home's gutters tend to become caked with thick dirt, mud, silt, and other debris. Hot summertime sun dries this residue, clogging your home's gutters and increasing the risk of water damage to the home's exterior and its concrete foundation.
A soft wash gutter cleaning in the fall removes layers of caked-on, built-up dirt, mud, and other debris, as well as leaves, twigs, and bird droppings. Your home's gutters will then be free of clogs and you'll have less risk of ice dams forming along roof eaves during wintertime.
Window Washing in the Spring
You might assume that you should schedule window washing for the fall, after summertime storms have passed through your area. However, a springtime window washing ensures that your windows are clean and streak-free, allowing you to enjoy the view during summer months and creating a home interior that is bright and sunny as well!
Professional window washing also typically includes a cleaning of the screens so that you can open your windows during summertime and not worry about cobwebs, dust, dead bugs, and other debris blowing into the home through those screens. A proper springtime window washing then allows for fresh air into your home during summer months along with that beautiful view!
Deck Cleaning in the Spring
Deck washing in the spring removes mold, mildew, algae, dirt, mud, and other residues from a wood deck, creating a safe surface for summertime barbecues! Deck power washing also restores the color of deck paint or stain so that your deck looks its best throughout the upcoming summer months.
A proper deck power washing also removes layers of residues so that you can examine the deck for needed repairs, and even apply a fresh coat of sealant if necessary. Your deck will then be in good condition as well as clean and attractive for summer parties.
Concrete Pressure Washing in Spring and Fall!
As with exterior house washing, there are advantages to concrete power washing in both the spring and fall months:
Residual lawn care chemicals and fertilizers tend to run onto a concrete driveway during summer months. A thorough power washing in the fall removes those corrosive materials  and reduces the risk of damage to concrete and asphalt driveways and walkways.
Summertime storms deposit dirt, mud, sand, silt, and gritty residues that work their way into the pits and pores of concrete, causing damage to the material. A garden hose is insufficient for removing all that abrasive debris, but a professional concrete power washing in the fall will ensure a proper clean of your property's driveway and walkways.
Power washing a driveway, walkways, patio pavers and other stone surfaces in springtime allows for a thorough inspection of these materials so that you can patch chips and cracks as needed.
Springtime is also an excellent time to apply fresh concrete paint and sealant, protecting these materials from damage. Pressure washing concrete and other surfaces in the spring, before applying paints and protective seal coating, ensures proper adhesion.
Washing exterior concrete as well as patio stones and other surfaces creates a clean and welcoming backdrop for new landscaping and creates a more attractive outdoor environment when you're enjoying time outside during summer months.
Fence Pressure Washing in the Spring
If your property has a glass, wood, or vinyl panel fence, consider pressure washing that fence in the springtime. During winter months, snow often tends to cling to solid fences, bringing dirt and mud with it and creating an unsightly mess once everything melts in springtime!
Pressure washing a wood fence in the spring also prepares it for a coat of sealant or other coating, to ensure it's protected throughout the year. A thorough fence washing also creates a clean backdrop for landscaping and ensures a welcoming environment during summertime.
Residential Pressure Washing Mistakes to Avoid
Power washing is typically more complicated than many homeowners realize, which is why it's good to call a professional pressure washing contractor for your home's cleaning needs. However, if you do want to buy or rent a small machine and try some everyday cleaning around your property, note some common pressure washing mistakes to avoid as well as some tips for ensuring a thorough cleaning:
Never hold a power washer directly over any surface, but keep the wand moving at all times. If you're trying to clean a stubborn stain or caked-on dirt and mud, use a detergent meant for the material and stain in particular rather than assuming you need to apply more pressure.
Hold the wand at an angle rather than spraying directly over a surface. Angling the wand reduces the risk of damaging a surface and also helps to loosen dirt and grime.
Note the direction of your water runoff! Be sure you're directing dirty water toward the street or a drainage ditch rather than letting it pool on your lawn or splatter against your house or garage.
Never let detergents or surfactants dry on any surface, as this causes damage to wood and brick especially. Work in small sections if necessary, to give yourself time to rinse a surface properly before moving to another area.
If cleaning patio furniture, rubbish bins, and other smaller items, avoid having someone hold the item in place during the wash process. Spraying someone with a pressure washing wand or even splattering them with hot water, detergents, and water spray is very dangerous and can result in serious injury! Place the items against an exterior wall if needed rather than risking injury to someone.
It's also good to avoid pressure washing windows, your home's roof, and gutters on your own. These surfaces and materials are easy to damage and improper washing techniques can leave behind unsightly and damaging detergents and surfactants. Call a professional power washing contractor for these jobs, to ensure the surfaces are cleaned properly and without damage.