Regular commercial pressure washing in West Bloomfield is an excellent investment for your property! Power washing ensures your business is ready and welcoming for visitors and staff. Also, pressure washing can remove graffiti, oil stains, chewing gum, and other unsightly and unwanted messes. It also washes away unpleasant odors and bothersome pollen and dust.
However, some business owners might put off needed commercial pressure washing due to concerns about its cost. The good news is that power washing is often more affordable than commercial property owners realize. Check out some average costs for commercial pressure cleaning so you know what to expect with your property.
Average Cost for Commercial Pressure Washing in West Bloomfield
Commercial pressure washing companies usually estimate jobs by the square foot or by the hour. Most contractors charge around $0.75 to $1.00 per square foot or $100 per hour for commercial properties in 2023. This price is often higher than for residential power washing, as commercial cleaning is often more complicated.
For instance, commercial power washing might include cleaning signage and overhead lights. Also, commercial parking lots and entryways often need deeper cleaning than residential driveways. Your technician might also charge more for tackling graffiti, oil, and other tough stains.
You might request various services that increase your price. These might include pavement sealing or scrubbing around commercial pool decks. Lastly, note that commercial power washers might offer to clean your property around your company's schedule. This can mean in the evenings, on a Sunday night, and so on.
While this can mean less disruption for your business, you might pay a slightly higher fee for this accommodation. However, remember that these are just averages and that your price will vary. A power washing contractor in West Bloomfield can prepare a specific price quote for your property!
Why Schedule Pressure Washing for a Commercial Property?
There are many reasons to schedule commercial pressure washing for a commercial property. First, power washing removes damaging storm debris, mold, and other such elements. Second, exterior washing cleans away bothersome mold, dust, pollen, and other irritants and removes unpleasant odors! You and your staff and visitors might breathe easier after pressure washing services.
Also, pressure washing is an excellent solution for removing messes you can't remove with hoses and other simple tools. For instance, heavy-duty detergents can dissolve paint, oil, grass stains, and more. Power washing is also excellent for removing algae along roofs, and protecting shingles from damage. Gutter cleaning keeps them clog-free, reducing the risk of water damage along walls and foundations.
Above all, never overlook the importance of a clean, pristine exterior for your property. Potential customers or clients might be put off by unsightly messes and unpleasant odors. They might also wonder how you'll take care of them as a client or customer if you don't even take care of your property! On the other hand, pressure washing can create a welcoming, inviting property and stunning curb appeal.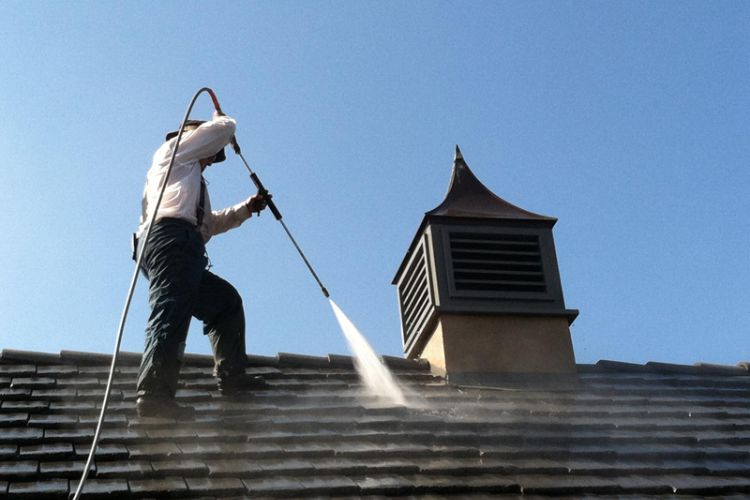 How Often Should You Schedule Commercial Pressure Washing?
There is no "one size fits all" schedule for commercial pressure washing. Property owners should consider what contributes to their property's condition overall. For instance, production facilities often produce lots of soot that settles onto roofs and exterior walls. In turn, those facilities might need several cleanings every year.
Also, you might need a different cleaning schedule for various materials and surfaces on your property. As an example, cleaning a commercial pool deck several times per year ensures a welcoming area for visitors. On the other hand, your entryways and exterior building walls might only need annual cleaning.
Additionally, never hesitate to call a power washing contractor for one-time cleaning as needed. For instance, your property might look a little rundown after a strong storm moves through the area. Or you might consider pressure washing before an open house or putting a building on the real estate market. This service ensures your property looks its best and provides a welcoming look from top to bottom!
ProClean Pressure Washing West Bloomfield is happy to help explain the expected cost of commercial pressure washing in Michigan. If you're in the market for expert cleaning, call our power washing team. We offer FREE consultations and price quotes and guarantee customer satisfaction. Additionally, we always tailor our services to fit your property and budget. Our crew is also happy to answer your questions about pressure washing and our soft wash systems. To find out more or to get your property started, fill out our callback form today!